Someone Mention the BBQ Meal?
Coming Soon…..Saturday, May 6th
from 11:00-1:00 pm
Don't miss out.
Final week to order your meals.
We will need final sales numbers by Wednesday, April 26.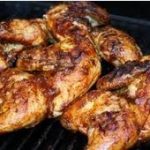 $8.50 per meal
4 meals for $30.00
$7.50 order 5+ meals
$9.50 per meal at the door.
Order meals today!!!
We need 150 meals to meet our goal.
Meal includes: half chicken fryer, beans, corn, tortilla and salsa.
#bbqchickenmeal  #delicious #yum  #fundraiser